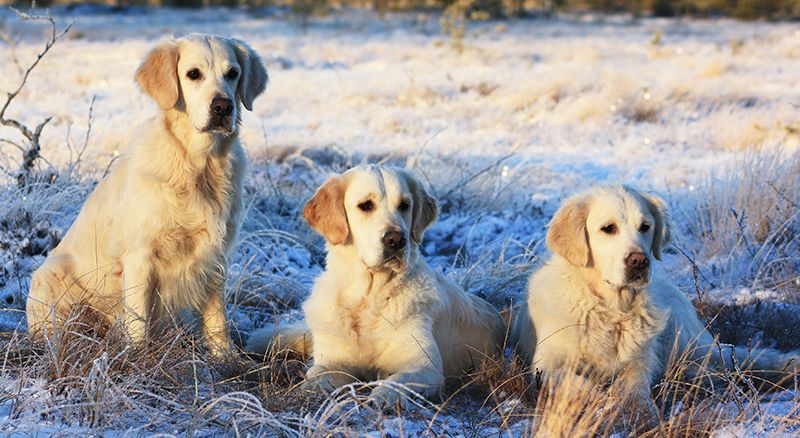 News
Highlights of 2012
The Year 2012 was a quite a hectic one for me. Some nice judging appointments, studying new breeds in group 8. I passed the judging exam for Curly Coated Retrievers, English Springer Spaniels, Portugese Waterdogs, Welsh Springer Spaniels, American cockerspaniels and Chesapeake Bay Retrievers. Did some showing of my own dogs too I was responsible of the teaching & organizing judging exams for our lovely breed, the Golden Retriever. And a new most exciting task of supporting my son during his first Autumn at school and participating as secretary at the parent's association. And my daily work has not been a walk in the park either.. ;) So - no wonder updates on our Dreamstyle homepage have been pretty scarse. Below I have listed some Highligts of our year
Some results from shows 2012 of our beautiful Miss Sunshine, Finngreen Zillion Dreams 'Saga' (Ch Lovehayne Wallace-Ch Finngreen Royal Stories)
- 14.4. Vaasa INT. show: BB-2 with CC and Res.CACIB, judge Mr Nils-Arne Törnlöv, Sweden
- 12.5. Tampere INT.show BB-3 with Res-CC, judge Mr Hannu Talvi, Finland
- 4.8. Vesilahti group show, BOB and CC (her last in Finland), shortlisted among 8 best in the huge group finalring of combined FCI 7/8. Judge Mrs Vera Smirnova, Estonia
- 16.9. Hyvinkää group show, BB-1 and BOS, judge Mrs Elisabeth Rhodin, Sweden
- 20.10. TURKU INT. show: BB-2 with CACIB, judge Mrs Tijana Konrad
- 8.12. Helsinki INT. Helsinki Winner show: BB-2 with Res-CACIB judge Mrs Leni Finne, Finland
- 8.12. Helsinki INT. Finnish Winner show: 4th in openclass, judge Mrs Patsy Hollings, UK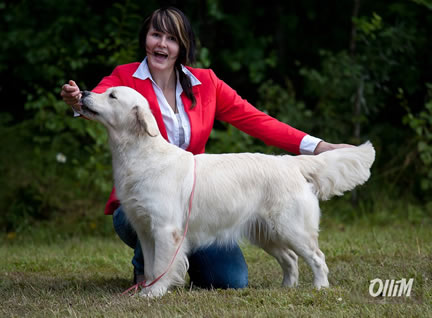 Saga at BOB at Vesilahti group show in August with handler Maarit Martikainen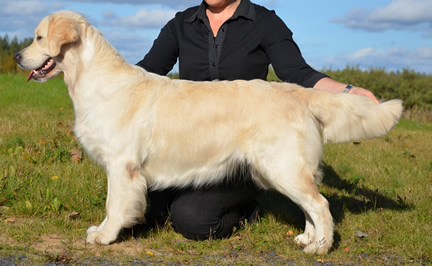 Saga BOS at Hyvinkää group show in September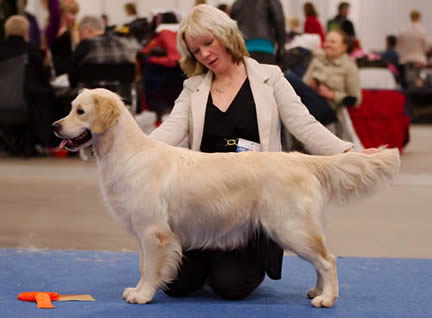 Saga BB-2 res CC at Helsinki Winner12 show in December with handler Ada Pykäläniemi
20.10. Hyvinkää Finnish Retriever Association's club show
Dreamstyle Colours I Love - 'Mari' (Ch Sandusky Alain Prost - Dreamstyle Driving Miss Daisy) won the juniorclass with CQ and was awarded BOB-junior. In the finalring she was placed BIS-2 junior of the show! Juge was Mrs Kati Heiskanen from Finland and junior finals were judged by Mr Eddie Webster, UK.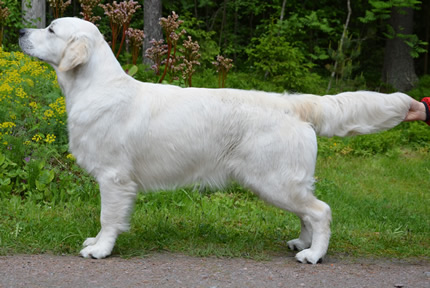 13.10. Kemiönsaari Field qualifying test
Dreamstyle Colours I Love - 'Mari' (Ch Sandusky Alain Prost - Dreamstyle Driving Miss Daisy) participated at the test and was quite successful with her owner/trainer/handler Johanna Siivonen. Mari qualified in the field at the end of the day!. Judge Mr Risto Heikkone. Well done girls, so proud of you !! These wonderful memories of the day were captured on camera by Mr Markku Kastepohja.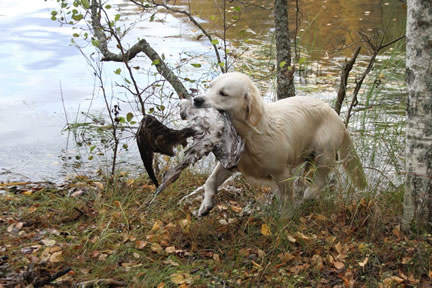 First part of the test accomplished, two more to go..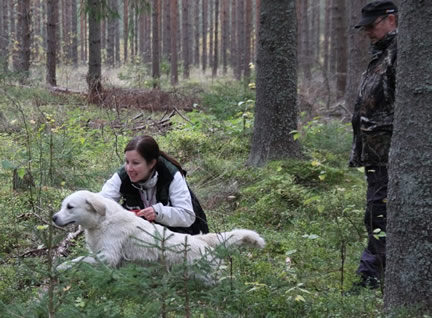 Johanna sending Mari to search for some birds in the forest.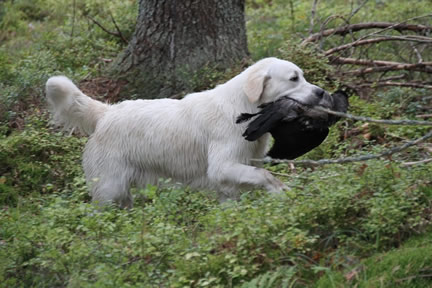 Retrieving the crows from the search area.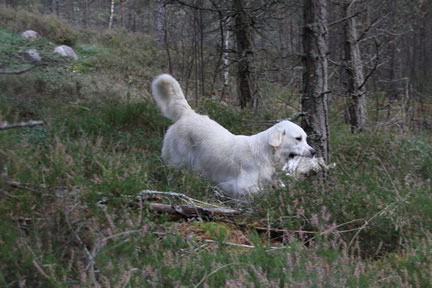 The happiest moment of the test: when the dog brings the rabbit that she has tracked.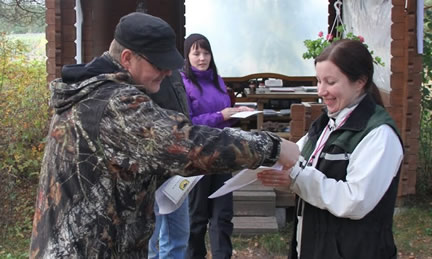 Johanna receives the diploma from judge Risto Heikkonen.

8.9. Kirkkonummi Golden Ring specialty CC show
Hollygold Aprilstorm (Ch Stanroph Endelwood Nicolas - Stanroph It's A Mirage to Hollygold) won the veteranclass and ended up BIS-2 veteran at FGRC:s specialty show. At the same show the litterbrothers and sisters D. Colours I Love, D. World of Colours, D. Colour Copy and D. Unlimited Colours all participated in the juniorclass. All of them got excellent with nice critiques and D. Colour Copy was also placed 4th in tough competition The veterans were judged by Mrs Kati Heiskanen, Finland and the other classes & BIS final by Mrs Liz Keene, UK.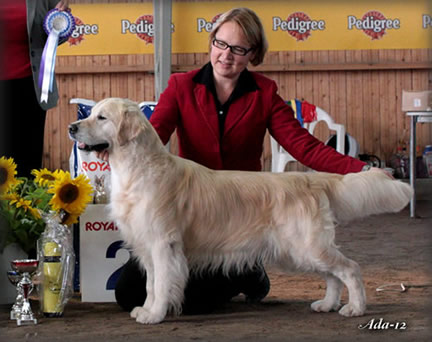 Hollygold Aprilstorm BIS-2 veteran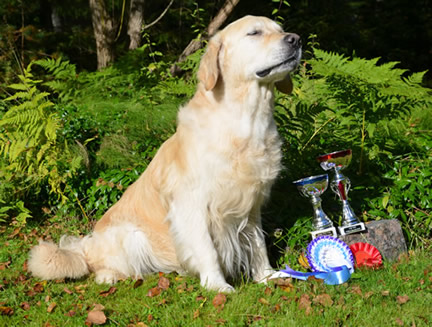 Uno seems to be a bit proud of his prizes
11.6. Happy 2nd Birthday
Aku, Nella, Tosca, Noma, Sera and Gizmo !
8.6. Puppy news
Karvin Dazzling Copy gave birth to 2 dog and 5 bitch puppies at kennel Joystep's. Proud father is Giddygold Vanilla Ice. Both mom & puppies are doing fine.
Finngreen Zillion Dreams
Year 2011 was quite a success for Our little Miss Sunshine, Finngreen Zillion Dreams (Ch Lovehayne Wallace-Ch Finngreen Royal Stories). Saga participated at only 8 shows, gaining following results:
BIS-1, BIG-1, BIG-3, 3 x BOB, 1 x BOS, BB-2, BB-3, BB-4, 4 x CC, 3 x Res-CC !
Saga was awarded:
- Top Winning Young Retriever 2011, by Southern Retriever Club (UMN)
- Top Winning Showdog 2011, Southern Golden Retriever Club (PSK)
# 10 Top Winning Golden in Finland 2011 by the Golden Retriever Club of Finland (GR)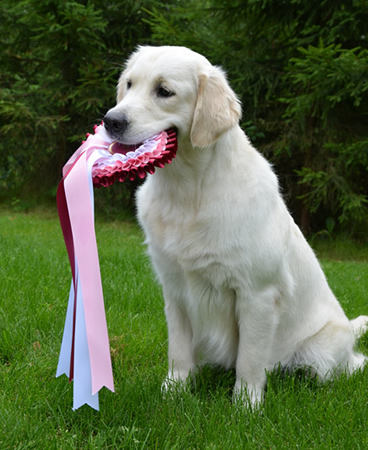 Thank you Elina for this dreamgirl!