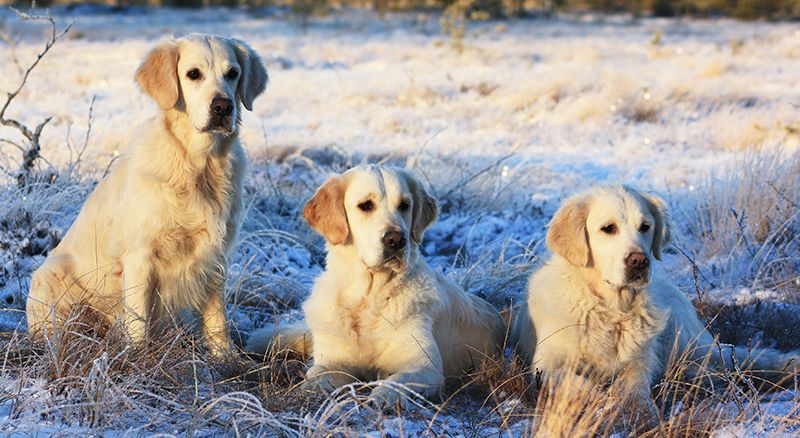 News
Helsinki all breed puppy show
Dreamstyle Once In A Blue Moon (Ch Lovehayne Wallace-Karvin Dazzling Copy) made a nice debut in the showrings. "Aku" won the 5-7 months puppy class with HP and later on also won Best dog puppy. At the end he was BOS puppy out of 28 entries. Aku was totally enjoying himself the whole day, tail wagging Congratulations to owner Jaana & family. Also Dreamstyle Bubblin' Blue was entered, no placement this time, but she was having fun all the time and seemed to love the experience. Judge was Mr Vesa Lehtonen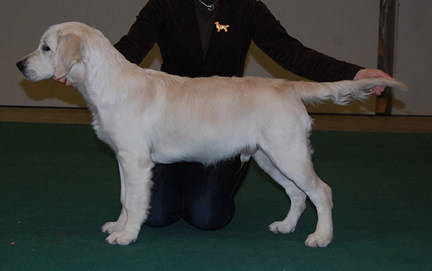 In Loving Memory Guess Giacomo, Polo
Dearly missed, our beloved Polo
15.2.2001 - 15.10.2010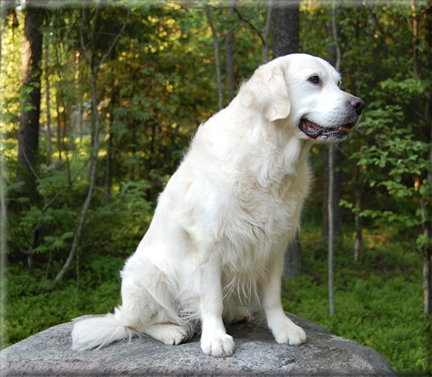 Polo at 9 years
4.9. Kirkkonummi, Golden specialty show
Dreamstyle Driving Miss Daisy: intermediate class exc 4th. Judge Mrs Anne Woodcock, UK
24.7. Helsinki all breed championship show
Dreamstyle Driving Miss Daisy: Juniorclass exc 1st, BB-2 and CC ! Judge Mrs Elena Ruskovaara, Finland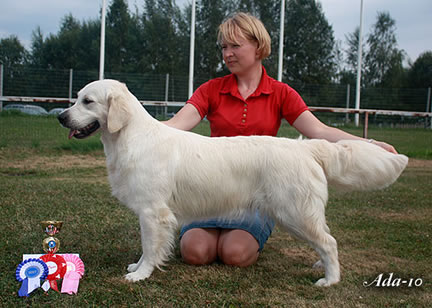 17.7. Lammi group championship show
Dreamstyle Driving Miss Daisy: Juniorclass exc 3rd. Judge Ms Eeva Resko, Finland
14.7. Lohja, I became official FCI judge of Golden Retrievers
A long time has passed since I got involved with the breed of golden retriever, actually 27 years... On July 14th I passed the final test for becoming an official judge for goldens. This means the world to me and opens a new path in the exciting world of dogs. Thank you all for your congratulations and support!
3.7. Pori International show
Dreamstyle Driving Miss Daisy: Juniorclass exc. Judge Ms Leila Kärkäs, Finland
11.6. Linda's puppies were born!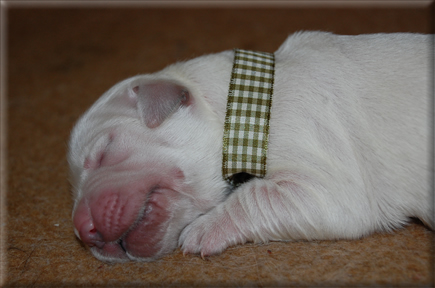 6.6. Espoo, Golden Ring, Club Open show
Dreamstyle Driving Miss Daisy (Ch Festival's Sierra De Alcaraz - Karvin Dazzling Copy) was 3rd in the intermediate class, her brother D.Don't Think Twice was placed 2nd in intermediate class. Judge was Mrs Li-Maria Carlsson, Kennel Tartuff's, Sweden.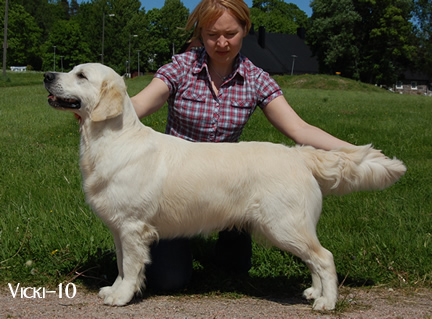 Dreamstyle Driving Miss Daisy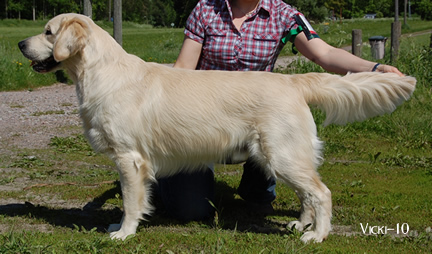 Dreamstyle Don't Think Twice
Puppy news
Ultrasound confirmed that Karvin Dazzling Copy "Linda" is expecting puppies! The puppies are due to be born 2nd week in June and ready to move to their homes at the end of July.
Karvin Dazzling Copy "Linda" on käynyt ultrassa, joka vahvisti sen, minkä jo paljain silminkin näkee, pentuja on tulossa. Odotettu "laskeutumisaika" on kesäkuun toinen viikko ja pennut ovat valmiita muuttamaan uuteen kotiinsa heinäkuun lopussa.
Tässä kuvia Lindasta, 4. raskausviikolla Below some pictures of Linda in her 4th week of pregnancy.